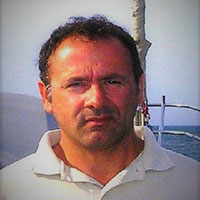 Dimitri was born in Athens in 1963 and has the following marine professional qualifications: MCA MASTER 3000GT Yachts Certificate, MCA GMDSS GOC, RYA/MCA Offshore and Ocean Yachtmaster, Medical Care Onboard Ship, and all STCW Sea Safety Certificates.
Dimitris has over 30 years as a professional captain on yachts sailing the Mediterranean, the Caribbean and around the globe. Dimitris started his yachting carrier in 1988 as a skipper on a 9 meters charter sailing yacht in the Aegean Sea and steadily worked his way up to being a "superyacht" captain. He is a calm, confident and knowledgeable captain with patience, positive spirit and love for sailing vessels and the sea.
He was the captain on-board the 130 ft Perini Navi S/Y "Maria Christina" (now "La Numero Uno") during her 2-Year Circumnavigation starting in 1998 from Greece to Gibraltar - Caribbean - Panama Canal - Galapagos - French Polynesia - New Zealand - Australia -Thailand - Suez Canal and back to Greece in 2000.
He has been the captain of S/Y "Christina" 78 ft Don Brooke, S/Y "Ellen IV" 80 ft Dymamique, S/Y "Ellen V" 135 ft Perini Navi, S/Y "Christianne B" 140 ft Perini Navi. S/Y "FLEURTJE" 185 ft Classic three-masted Schooner, S/Y "Aello" 130ft classic gaff schooner, and other large sailing ships. He is married with two young daughters. Dimitri enjoys trekking, cycling and swimming. He speaks English fluently and is a non-smoker.